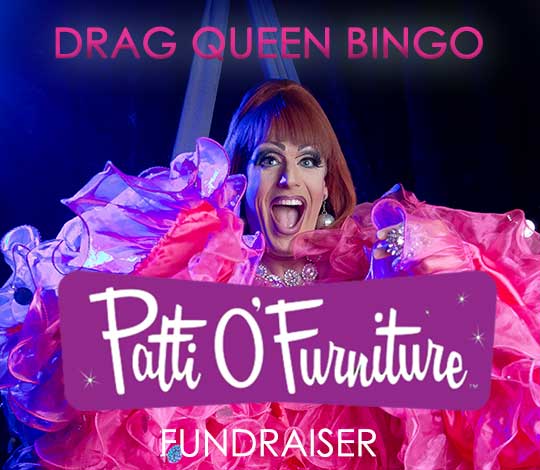 This November, Hendersonville audiences will have a fundraiser like no other. Patti O'Furniture, celebrity drag queen, will host a drag bingo fundraiser on November 5. The evening will feature two shows, a family-friendly show at 7 PM and an adults-only (18 and over) show at 9 PM. Tickets are $35 and are available online at HVLtheatre.org or by calling the Box Office at (828) 692-1082. Groups of 10 or more receive a 10 percent discount.
All proceeds will benefit Hendersonville Theatre. The ticket price includes a bingo card (a $5 value) and one beverage. Prizes will be awarded for winners of each round of bingo, as well as most creatively dressed. The fundraiser is sponsored by Dogwood of Flat Rock, Lawn Fawn, Nichola Rae Photography, Raymond's Garden Center, Street Fair, The Poe House, Wag Pet Boutique and Water Cat Conduit.
Recently seen on season two of HBO's We're Here, Patti O'Furniture is making her Hendersonville debut. Patti is one of the most sought-after emcees in the region. She first hit the stage in 1999 and has been entertaining audiences across the country ever since. A fixture in the Charleston, Charlotte and Columbia drag scene, Patti has been named Miss South Carolina Pride and Miss Red Ribbon Friends of Myrtle Beach, where she spent her reign raising money for HIV/AIDS services along the SC coast.
In 2012, she was presented with the crown and title of Vista Queen Emeritus for her fundraising for Trustus Theatre in Columbia where she helped raise over $75,000 to support professional theatre.
Patti's alter ego is a college professor from Spartanburg, SC. One thing has remained consistent since that very first show: every dollar that Patti collects on stage gets donated back to the community. All of her tips are donated to causes including HIV/AIDS prevention and education, animal welfare, LGBTQ+ civil rights, the environment and a host of local arts organizations. To date, she has raised over $1.5 million.
Related Events