The Black, White, & Red Gala
December 7 @ 6:00 pm

-

10:00 pm

$75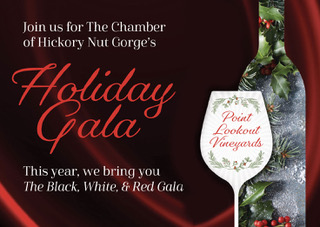 Location: Point Lookout Vineyards, Hendersonville, NC
Dressed in the captivating colors of black, white, and red, guests will be immersed in an ambiance of classic glamour with modern flair. As you step through the doors, you'll be greeted by an evening of enchantment that includes:
Musical Extravaganza: Dance the night away to the enchanting melodies performed by live musicians, creating an atmosphere that's both captivating and infectious. Whether you're swinging to jazz, swaying to contemporary hits, or reveling in timeless classics, the music will set the tone for an unforgettable evening of celebration.
Exquisite Dinner: Indulge your palate with a sumptuous dinner meticulously crafted by renowned chefs. Immerse yourself in a culinary journey that combines flavors, textures, and artful presentations, ensuring a dining experience that's a feast for all your senses.
Vibrant Live Auction: Prepare to be amazed by our live auction, where you'll have the opportunity to bid on an array of exclusive items and experiences. From rare collectibles to luxurious getaways, the live auction promises excitement and the chance to take home something truly remarkable.
Elegant Cash Bar: Sip on your favorite libations from our well-stocked cash bar, offering a selection of premium beverages that complement the night's festivities. Raise a glass with fellow attendees as you toast to the spirit of the season.
Shuttle Service: Don't worry about parking, traffic, or the hassle of finding your way to the gala. Our experienced drivers will navigate the route while you relax and socialize with fellow gala-goers. You can even start mingling before you arrive! Pick-Up/Drop-off Locations: 5:30PM at Lake Lure Ingles, 5:45PM at Lake Lure Welcome Center, and 5:30PM at Hendersonville Ingles. Shuttles leave Pt. Lookout at 10PM for the return home.
Tickets for this extraordinary evening are now on sale! To secure your spot at the Black, White, & Red Gala and to find more information about the event, please visit our official website at hickorynutchamber.org/holiday-gala.
Don't miss your chance to be a part of the Chamber of Hickory Nut Gorge's most anticipated event of the year. Join us at Point Lookout Vineyards on December 7th as we celebrate the holiday season in style, surrounded by elegance, music, exquisite dining, and the joy of giving. Dress to impress in the theme's signature colors and get ready for a night of enchantment and camaraderie that will leave you with cherished memories.
Related Events