Wee Wine & Dahlias
September 22 @ 4:30 pm

-

6:30 pm

$300.00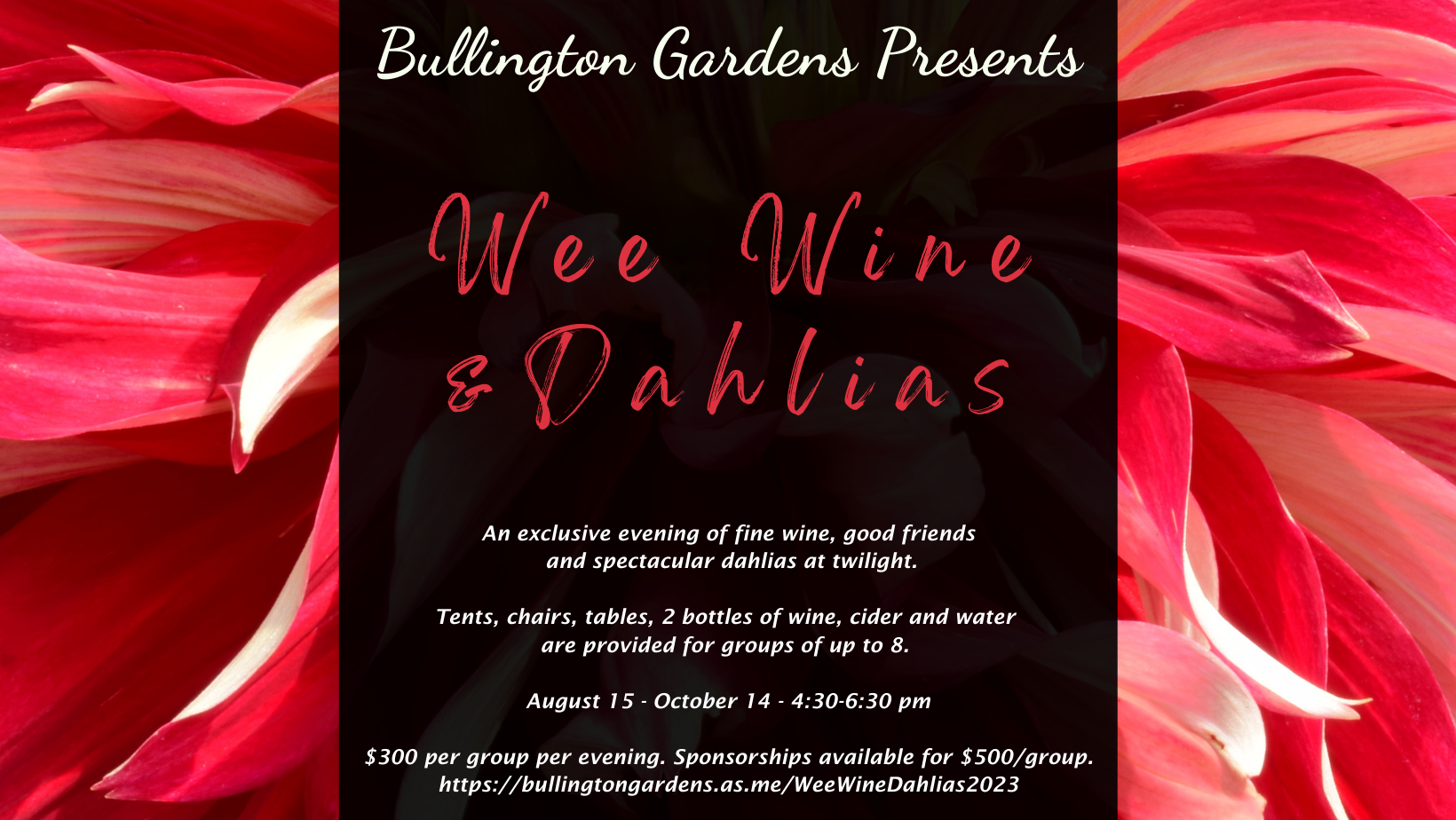 Bullington Gardens invites you to experience the epitome of exclusivity with their new and exciting offering – twilight parties in the enchanting gardens. Now accepting reservations, this is your chance to indulge in a truly magical evening with your own private group of eight. From August 15 to October 14, 2023, Tuesday through Saturday, 4:30-6:30p.m., immerse yourself in nature's wonders while delighting your palate with locally-sourced wines and cider, all in the company of the resplendent Dahlias in full bloom.
Picture this: you and your closest companions, relishing the serenity of the gardens, sipping on delectable beverages, and taking leisurely strolls amidst the breathtaking flora. To ensure an intimate experience, each group of up to eight will have their own private party. Whether you prefer the charming pavilion or the festive tents, the choice is yours. And fear not, for even if the rain tries to dampen the mood, the horticultural therapy greenhouse is ready to shelter you.
With only two groups accommodated each evening, you'll have the pleasure of enjoying your own secluded space. Each group's table will be beautifully set in separate venues, adorned with fresh floral arrangements that you can take home as a keepsake. As the host, you have the opportunity to curate a culinary masterpiece by bringing your own hors d'oeuvres or even an entire meal. Imagine the delight of savoring delicious food amidst an unparalleled view, creating an unforgettable private party.
The cost for a table of eight is $300 per group, ensuring an intimate and personalized experience. If you're interested in elevating your involvement, consider a sponsorship level of $500. By participating in this extraordinary event, you will not only create cherished memories but also support the Educational and Horticultural Therapy programs dedicated to children and adults with special needs.
To secure your spot for the Wee Wine & Dahlias evening of your dreams, reserve below or give us a call at 828-698-6104. Remember, availability is limited, so make sure to secure your reservation early. Get ready to immerse yourself in an evening of enchantment at Bullington Gardens!
August 15th through October 14th, 2023. Tuesday-Saturday, 4:30pm-6:30pm.
Related Events