A Different Kind Of Camping Experience
The Cold Spring Basecamp team is a vibrant ensemble of individuals who share a deep-rooted love for this pristine wilderness.
Guest Writer: Hartwell Carson
Meet the People Behind Cold Spring Basecamp
Cold Spring Basecamp is a family-owned business spearheaded by partners Steve Waggoner and Hartwell Carson. Steve knows the basecamp like the back of his hand, as he grew up camping on this property as a kid. His father, Bill Waggoner, was the owner of Camp Windy Wood on Lake Summit, and the Cold Spring property was used for overnight camping and adventures. Bill and Steve built some of the original cabins by hand.
Steve Waggoner: A native of the area, Steve's upbringing was steeped in the wonders of camping and adventure as he spent his days exploring every nook and cranny of this pristine property, starting with his time as a camp counselor and over the next three decades, through his career as a land surveyor. His journey of discovery has made Steve intimately familiar with the lay of the land. Today, he serves as the "President of heavy equipment, surveying, and rock hauling" at Cold Spring Basecamp.
Hartwell Carson: Hartwell has worked for almost 20 years to clean up and protect the waterways in Western North Carolina as the French Broad Riverkeeper for MountainTrue. This work involves monitoring our waterways, pulling tires and trash from the river, and building the French Broad River paddle trail, a series of campsites connecting over 150 miles of the river. Hartwell is also the founder of Clean Water for Africa, which support African Riverkeepers with drinking water wells, water tanks and water filters. At Camp, Hartwell heads up the cleaning up messes division, among other duties.
Teela Waggoner: A true local, spent her childhood camping on these grounds. She brings her expertise as one of the area's finest mortgage brokers to the table, along with a knack for style and invaluable advice.
Wilder Carson: In charge of excavators and skilled in "shredding the gnar," adds an adventurous spark to the team.
Evan Carson: The vice president of plant relocation, step building, and entertaining his little brother, rounds out this dynamic group.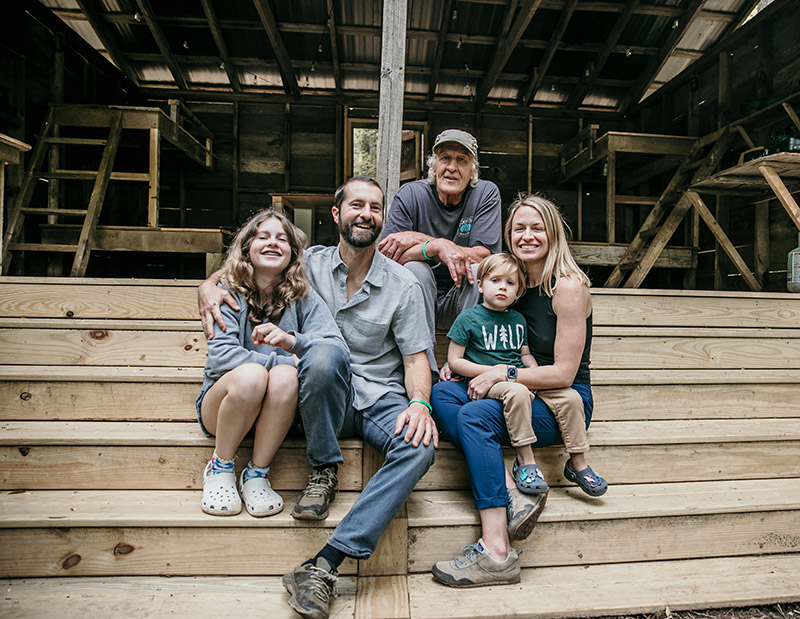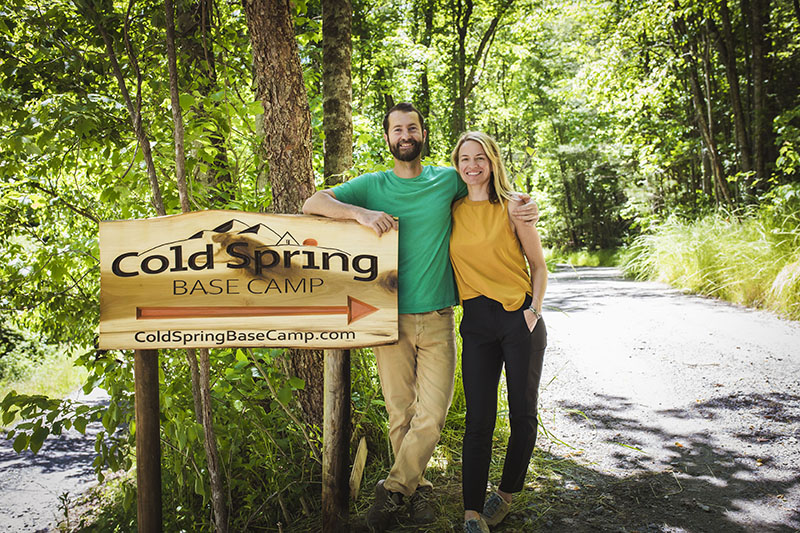 A Basecamp for Your Adventure
After a health scare a few years ago Hartwell and Teela decided they wanted to build something together that would stand the test of time. They both love camping and biking, so a campground with trails was a natural fit. 
For Steve, this land had been in the family for decades and had been a huge part of his upbringing. He wanted to keep the property, which once served as a youth summer camp and later, a local hangout spot for teens and young adults, in the family, but loved the idea of again sharing it with others. They beauty of the property helped make it an easy decision to partner.
The property offers rustic camp sites for tent camping, three rustic 3-sided cabins, miles of mountain biking and hiking trails, a beautiful waterfall, trickling creeks, cold plunge tubs, and an overwhelming feeling of peace and stillness throughout the 38 acres. They have plans to add treehouse camping in the near future.
Cold Spring Basecamp makes a great central place to stay because they are located so close to the many outdoor recreation opportunities that the Green River area (nestled between Hendersonville and Saluda) has to offer, as well as the many other things that make the region a draw, like apple picking and leaf peeping in the fall, the craft beverage scene, Hendersonville's quaint downtown and so much more. See Hartwell's top local picks below!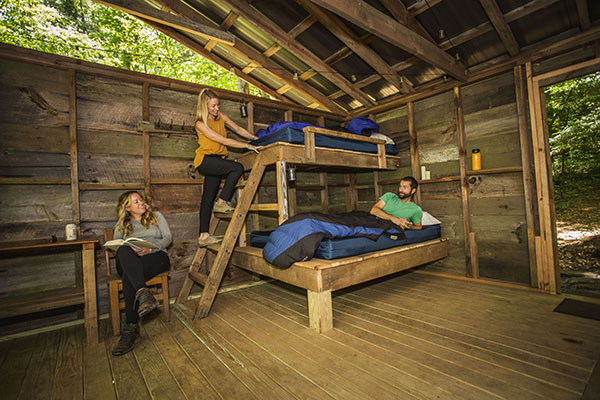 unique cabin experience
The filters used for the drinking water at Cold Spring Basecamp — which comes straight from the property's creek — are the same filters used for clean water projects in Uganda, Kenya and Togo and a portion of the proceeds from each booking will go to support Clean Water for Africa.
The rustic and historic cabins that were rehabbed by Steve and Hartwell managed to keep all their old charm, with their wooden walls and furniture. They offer the feeling of being out in the open wilderness, but with a roof over your head. The cabins have a kitchen, eating area, and bunk beds (with queen on the bottom and twin up top). Cook over the stone fire pit or on cast iron pots and pan on the propane stove in the fully-equipped kitchen, which includes a French press, teapot, utensils and more. Relax under the solar lights and charge your devices using the solar-powered charging station — allowing you to be connected to the outside world as much or as little as you want.
Spacious, private Campsites are all nestled in the woods, next to the creek. Each site has a picnic table, fire ring with grill for cooking, and a water filter is provided for purifying drinking water from the creek.
Cold Spring Basecamp is also dog-friendly, meaning you can launch any adventure, whether you are visiting with 2 or 4-legged friends, or both.