Part of what people love about Hendersonville and all of Western North Carolina is the scenic beauty of the rolling mountains and the our unparalleled access to get out and explore. Whether you are an experienced hiker or prefer a short walk to a scenic overlook, there are many hiking options to add to your itinerary.
Bearwallow Mountain: Bearwallow Mountain is located in eastern Henderson County at an elevation of 4,232 feet above sea level. This easy to moderate one-mile (each way) trail features a grassy meadow at its summit, along with a historic fire tower, breathtaking scenery and a 360° view. From atop the peak, see such area landmarks as downtown Hendersonville, Mt. Pisgah, Mt. Mitchell, Hickory Nut Gorge and upstate South Carolina. As of fall 2020, this trail now connects to the Wildcat Rock Trail at the mountain's summit. Both the Bearwallow Mountain Trail and the Trombatore Trail start from the same parking lot, at the top of a steep hill on Bearwallow Mountain Road. Parking is limited, so please consider carpooling.  Please respect the adjacent property owner by not blocking the gate, road, or driveway across from the parking area or using it to turn around. Click on Conserving Carolina for additional information.

Carl Sandburg Home National Historic Site Hiking Trails: Carl Sandburg, American poet, historian, author, and lecturer spent the final 22 years of his long and productive life at his estate, Connemara, in Flat Rock. Today this National Historic Site offers a keen insight into Mr. Sandburg, his family and their 264-acre working farm. The Sandburg Home houses his collection of 10,000 books, notes and papers. Home tours are offered daily tours. There are numerous hiking trails and a functional goat barn, where Mrs. Sandburg raised her prize-winning goats. There are five miles of hiking trails located on the Connemara property that range from is easy to moderate in difficulty level, with Glassy Trail being steep in only one place. It takes is about 35 minutes at a steady walk to the top of Glassy. Trail maps are located at the main house or click for a copy of the tours. For information call 828-693-4178. 81 Carl Sandburg Lane (located off Little River Rd.), Flat Rock, NC.
Cane Creek Greenway: The Cane Creek Greenway is a popular, easy walking path that is partially paved, partially covered in fine gravel and has access to many other walking paths in the surrounding area and at Bill Moore Community Park. The Greenway runs next to and offers access to Cane Creek, which is a great place to fish or wade. Much of the Greenway is wooded, so it is a great place to, walk, run or bike. Ample parking is available at Bill Moore Community Park, located at 85 Howard Gap Road in Fletcher.
Chimney Rock & Lake Lure Area: The towns of Chimney Rock and Lake Lure are nestled in the Hickory Nut Gorge area of Western NC. Traveling from downtown Hendersonville is an easy drive, taking approximately 35 minutes. The Weed Patch Mountain Trail offers wilderness adventures for hikers, mountain bikers, and rock climbers to explore. The 8.6-mile trail traverses rugged mountain terrain through a remote wilderness area in the Town of Lake Lure's Buffalo Creek Park. The strenuous trail connects to the Buffalo Creek Loop Trail and is 10 miles long one way, 20 miles round trip (including the start on the Buffalo Creek Loop Trail). The Youngs Mountain Trail leads to a mountain summit with panoramic views of Lake Lure, Rumbling Bald, many mountain peaks and the Hickory Nut Gorge. On this strenuous 4.2-mile out-and-back hike, you may see wild animals, wildflowers, a small waterfall, rock outcroppings and much more. This trail is brand new (as of Spring 2021), and parking is currently limited, so a parking pass is required. Find out more on Conserving Carolina's website.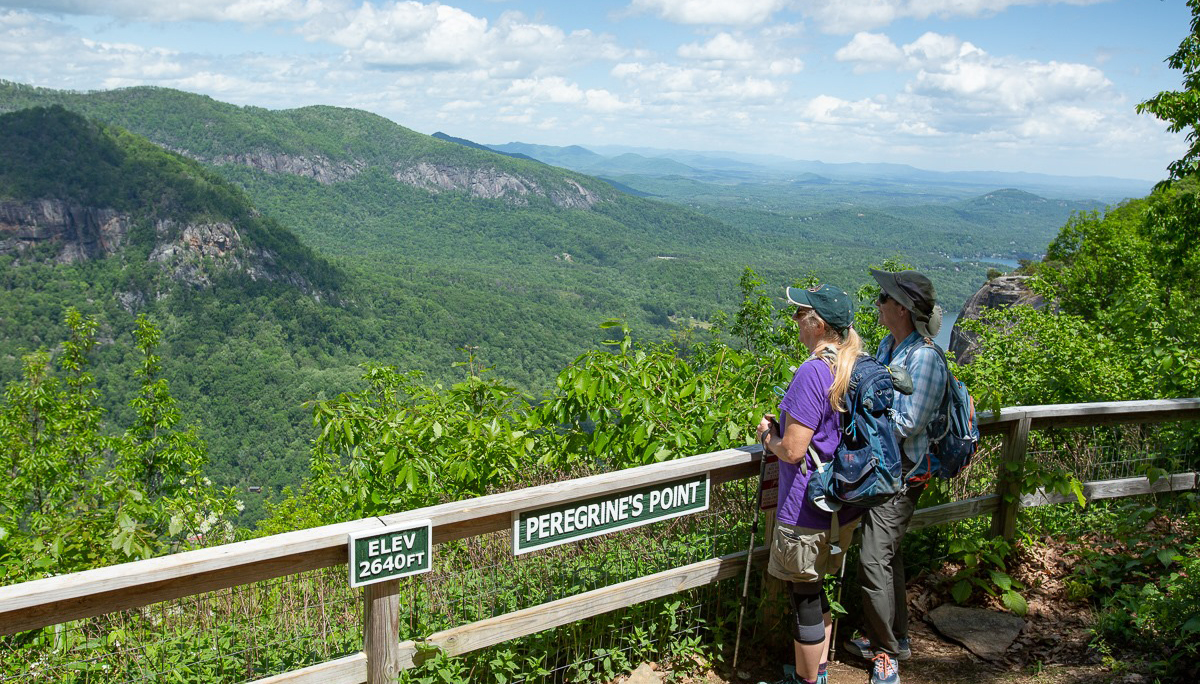 Chimney Rock at Chimney Rock State Park:  Chimney Rock at Chimney Rock State Park combines the best of the mountains with 75-mile panoramic views, unique biodiversity, six hiking trails ranging from kid-friendly to strenuous, and one of the tallest waterfalls on the East Coast. A unique 26-story elevator inside the mountain is an easy way to access the observation deck. The Park has been a filming location for many movies including "The Last of the Mohicans." Located 18 miles east of Hendersonville. Check web site for hours and fees. Click for details.
DuPont State Forest: DuPont State Recreational Forest encompasses 10,268 acres in Henderson and Transylvania counties. It is situated in the Little River valley and includes waterfalls and 80 miles of roads and trails wandering through mountainous terrain. DuPont State Recreational Forest is open to the public for hiking, mountain biking, and horseback riding, with trails ranging from easy to strenuous in difficulty level. Many scenes from the movie, The Hunger Games, were shot in DuPont State Recreational Forest, download a copy of the film locations. For information call 828-877-6527. High Falls Access parking lot, 1300 Staton Rd, Cedar Mountain, NC.
Estatoe Trail in Pisgah National Forest: The Estatoe Trail is a flat, easy trail that is great for beginners. Situated in a mostly shady area, this trail offers access to Davidson Campgrounds, the Davidson River, the Art Loeb Trail and many other unique points within Pisgah National Forest. Parking is available at many locations within and near the entrance to the Pisgah National Forest on NC Route 280. Find more info here.
Florence Nature Preserve: The Florence Nature Preserve is a 600-acre property on the side of Little Pisgah Mountain, the tallest peak in Henderson County, that was donated to Conserving Carolina in the late 1990s and early 2000s to be turned into public land, and now has 5+ miles of trails. Conserving Carolina is in the process of extending the trails on the preserve, to connect the nearby Wildcat Rock, Bearwallow Mountain, Trombatore and Blue Ridge Pastures trails, forming one 20-mile-loop trail. These trails here are classified in difficulty as moderate to strenuous and include scenic views, creeks and cascades, wildlife and flowers and an old home site. Parking for the Florence Nature Preserve is located on Hwy. 74-A, at 3836 Gerton Hwy, Gerton, NC 28735, and is shared with the Wildcat Rock Trail.
Green River Game Lands: The Green River Game Lands includes more than 14,000 acres in Henderson and Polk Counties, located southeast of downtown Hendersonville. This area is home to steep, rugged terrain and dense forest land, as well as access to the Green River, which offers both gentle and extremely difficult sections with class IV & V rapids. The Game Lands are managed by the North Carolina Wildlife Resources Commission and are used for hunting, fishing, hiking, mountain biking, and tubing or kayaking. Due to the difficult terrain, all visitors are urged to use extreme caution in all parts of the forest. Much of the Green River Game Lands are recommended for advanced hikers and expert kayakers. Parking is available at many locations, but some of the closest designated parking to Hendersonville and hiking trails would be on Big Hungry Road at the Bishop Branch and Long Ridge Trailheads.
Holmes Educational State Forest: Holmes Educational State Forest offers a series of well-marked trails, accented by exhibits and displays depicting the ecology of a managed forest. Most trails are rated easy, but the Demonstration Trail is rated as strenuous. Picnic sites with tables and a spacious picnic shelter (with grills ) are also available. Holmes Educational State Forest is located about 8 1/2 miles from downtown Hendersonville. The forest hours vary by season. For information, call 828-692-0100. Located at 1299 Crab Creek Road, Hendersonville, NC. Download a copy of the tour.
Jump Off Rock: Jump Off Rock is a scenic overlook, which provides a panoramic view of the Blue Ridge and Pisgah mountain ranges. Jump Off Rock also holds an Indian legend that has been passed down for many years. A young Cherokee Indian maiden received word that her young Indian Chief had been killed in battle, so she climbed to the edge of the rock and jumped off. Indian legend has it that on moonlit nights you can see the ghost of the maiden on Jump Off Rock.

There are three hiking trails at Jump Off Rock, varying in length and difficulty. Blue Trail – easy trail, takes about 8 minutes, Yellow Trail – moderate trail, takes around 15 minutes & Red Trail – is the most difficult and the longest. See the sign at the entrance to the walkway leading to Jump Off Rock.

From Main Street turn onto Fifth Avenue West, which becomes Laurel Park Highway, the road dead-ends at Jump Off Rock. Jump Off Rock is located approximately 5 miles from Downtown Hendersonville.
Oklawaha Greenway: The Oklawaha Greenway stretches 3.25 miles, connecting Jackson Park, Patton Park, Berkley Park, Sullivan Park, & William H. King Memorial Park.  It is a relatively flat paved trail and is handicap accessible. The Greenway is a 10-foot-wide asphalt path for cyclists and pedestrians. Mileage signs have been installed every quarter of a mile along the trail to help trail users know how far they have traveled and how much farther it is to their destination. Benches, water fountains, and three bicycle FixIt Stations are available along the trail. Blue light phones have been installed along the greenway using grant money from the state Department of Transportation.
Palmetto Trail: The Palmetto Trail is South Carolina's state trail that stretches some 500 miles from the mountains in the Upstate to the coast, near Charleston. Parts of the northern-most section of this trail dip into North Carolina and run along the state line, right in Henderson County. The closest section to Hendersonville is the Saluda Mountains Passage, which goes between Tuxedo and Saluda. This moderate to strenuous section includes switchbacks, some steep climbs and historic sites along the way. In the Tuxedo area, parking is available on Anders Road, near Camp Talisman. In Saluda, parking is available at Orchard Lake Campground.
The Blue Ridge Parkway: Blue Ridge Parkway Access follows the mountain ridges from Shenandoah National Park in Virginia to Great Smoky Mountains National Park in North Carolina and Tennessee. The Parkway's 469 toll-free miles are filled with natural beauty, mountain forests, wildlife, wildflowers and magnificent views. There are numerous scenic overlooks, parking areas and more than 100 trails, ranging from short walks to the Appalachian Trail. Hikes range in difficulty level, but most are moderate to difficult. Much of the Blue Ridge Parkway, including the part closest to Hendersonville, is often closed during winter, due to poor driving conditions caused by wet weather and the higher altitude. It is always a good idea to visit the Parkway's website for a list of Road Closures.  For information, call 828-298-0398. The closest Parkway entrance to the Hendersonville Visitor Center, located at 201 South Main Street, is the Bent Creek entrance, located at Parkway Mile 393.
The North Carolina Arboretum: The North Carolina Arboretum offers 434 acres of natural beauty, including 65 acres of cultivated gardens, and 10 miles of hiking and biking trails. The Arboretum offers a variety of trails, rated easy to moderate and moderate to strenuous, and is located at 100 Frederick Law Olmsted Way, Asheville, NC, 28806.  Visit the Arboretum's website for a Hiking Guide. For info, call the NC Arboretum at 828-665-2492.
The North Mills River Recreational Area: The North Mills River Recreation Area & Campground is part of Pisgah National Forest and is located in Henderson County, just 13 miles from Downtown Hendersonville. North Mills River Recreational Area has picnic sites, campsites, hiking, mountain biking trails, river fishing and tubing. Trails range in difficulty level from easy to strenuous. To get there from the Visitor Center, proceed north on Main Street approximately 1 mile, and turn left (at a light) onto Hwy. 191 North (Haywood Road). You will stay on this road for approximately 7 miles, through Mills River, until you reach the intersection of Routes 191 & 280. Turn right onto Hwy. 280 and travel less than one mile and turn left at the second stoplight, onto North Mills River Rd. Follow North Mills River Road approximately 5 miles to the campground. For information, call 828-877-3265.
The Park at Flat Rock: The Park at Flat Rock is situated on 66 flat acres. There is a 1.5-mile loop trail around the perimeter of the park, and many other shorter paths that criss-cross through the park, also totaling 1.5 miles. Many of the pathways are covered in fine-crushed rock, making them easy to navigate by foot, bike, or with a stroller. The peaceful park has multiple ponds, many benches along the pathway, a playground, a pavilion that can be rented out and is home to many flowers and wildlife. The Park at Flat Rock is open year-round from dawn to dusk and is located approximately 3 miles from the Visitor Center, at 55 Highland Golf Dr., Flat Rock, NC 28731.
The Perry N. Rudnick Art and Nature Trail: The Perry N. Rudnick Art and Nature Trail has multiple trails through woods and meadows that make it easy to create a loop that suits your ability. The trails are dotted with outdoor art. All trails are relatively flat and would be considered easy to navigate. Parking is available at the Kellogg Center and a small lot at 362 South Rugby Road in Hendersonville.
Trombatore Trail: The Trombatore Trail is a strenuous 2.4 mile (each way) trail that takes you through pastures and to a grassy bald with spectacular views of the Hickory Nut Gorge and Bearwallow Mountain. Both the Trombatore Trail and the Bearwallow Mountain Trail start from the same parking lot, at the top of a steep hill on Bearwallow Mountain Road. Parking is limited, so please consider carpooling.  Please respect the adjacent property owner by not blocking the gate, road, or driveway across from the parking area or using it to turn around. Click on Conserving Carolina for additional information.
Wildcat Rock Trail: The Wildcat Rock Trail is a strenuous 5-mile (each way) hike that takes you to three waterfalls, rock outcropping, and a scenic meadow along the ridgeline. This trail allows you to customize your hike for a short or long hike. After one mile of hiking, you reach these three natural features. The Wildcat Rock Trail was formerly known as the Little Bearwallow Falls Trail and as of fall 2020, takes you to the summit of Bearwallow Mountain, another popular 1-mile trail in the area. The trailhead is located on Hwy. 74-A, at 3823 Gerton Hwy in Gerton, NC, in eastern Henderson County, with parking available across the road at the Florence Nature Preserve. Trail maintained by Conserving Carolina.