Pet Friendly Hendersonville
Looking for a vacation spot that's as welcoming to your furry friends as it is to you? Hendersonville offers a variety of pet-friendly accommodations, restaurants, and activities that will make your trip unforgettable for both you and your four-legged companion. From hiking trails with scenic views to outdoor cafes where you can both relax and people-watch, Hendersonville has something for every type of pet owner. So grab the leash, and get ready for a vacation you and your pet will never forget!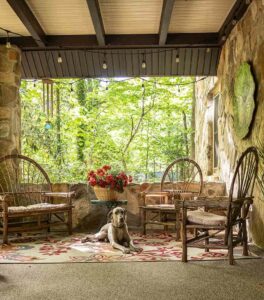 Vacationing With Your Pet

Planning on bringing your furry friend with you on vacation? We know that your pooch is a member of the family, so here you will find plenty of ways to explore with your entire crew — no matter how many legs they walk on! In Hendersonville, you can expect wonderful parks with walking paths, hiking trails of varying difficulty levels, many pet-friendly accommodations that will make both you and your pet feel that right at home, great outdoor dining options, and so much more to see, do and sniff. 
Parks With Walking Paths
Off-Leash Dog Parks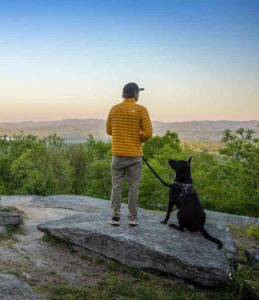 Dining With Your Dog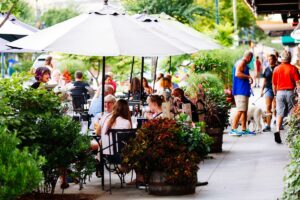 Most restaurants in Hendersonville with outdoor dining sections welcome well-behaved dogs in their outdoor sections (weather permitting). Leashed pups are also welcome at nearly every Hendersonville winery, brewery and cidery, all of which offer both indoor and outdoor options! Call ahead to see if pets are allowed.

Things You Need to Know
A local ordinance requires pets to be on a leash or confined, this includes while you explore our trails.

Downtown Hendersonville is pet friendly, with the exception of a select few special events. A Hendersonville City ordinance allows event organizers to exclude animals from the event space for the health, safety and welfare of the community, dogs, patrons, and vendors and their products. It is always best to check with the event organizer's website before venturing out to be sure pets are welcome.

The Welcome Center is pet-friendly, so free feel to bring your pet into the Center when you stop in — he or she is sure to get a scratch on the head, and maybe even a treat if they sit pretty.

Make sure to always carry water for your pet. Many local parks have doggie drinking fountains too!

Please follow the Leave No Trace principles and clean up after your pet. There are trash cans and bags available at various locations around Downtown, including the pet area adjacent to the Welcome Center parking lot, as well as at most area parks. 

Be mindful of leaving a pet in a hot car. When that the outside temperature is 70 degrees, a car can heat up to 89 degrees in just 10 minutes, and to 104 in 30 minutes.

Have a pet emergency? The Western Carolina Regional Animal Hospital is located just a few miles from downtown, at 205 North Highland Lake Road, Flat Rock, NC 28731, 828-697-7767.
Meet Evie

Hi, I'm Evie, a native North Carolinian – a Tar Heel, through and through. When I was a young wire fox terrier/boxer mix pup, my parents adopted me and took me to spend my puppy-hood in another state, but after 10 long dog years of sad puppy eyes and sitting pretty, I finally convinced them to move us back to my home state, the land of the longleaf pines…
Read the rest of my story and my favorite things to do in Hendersonville here!
Room Availability Program
Pet-Friendly Accommodations