Every fall, Hendersonville gets cozy in a warm hug of vibrant fall colors. While Mother Nature likes to keep us guessing, read along to see what our Fall Foliage is looking like at locations across the county!
Fall Foliage In The Blue Ridge Mountains
Each fall, the entire region gets nice and cozy, wrapped up in a warm hug of vibrant fall colors! While Mother Nature likes to keep us guessing, here is a general timeline of when the fall foliage typically shines its brightest in Hendersonville:
 

Late September – Head up to the high spots, 6,000 feet and above in the Blue Ridge Mountains, for the start of the color show.

First week of October – Colors start to paint the Blue Ridge above 5,000 feet, and the mountains get a bit cooler.
Second week of October – Now the trees between 4,000 and 5,000 feet are strutting their stuff in full color.
Third week of October – The colors start trickling down through the 3,000 to 4,000-foot range. This is your prime time for Blue Ridge Parkway drives and amazing views.
Fourth week of October – Hendersonville and the lower Blue Ridge hills (2,000 to 3,000 feet) hit their peak of colorful awesomeness. The town dresses up too!
First week of November – Down in the valleys (1,000 to 2,000 feet), the colors hit their stride. You'll see the full splendor from the mountain tops, through the vineyards and orchards, and into town.
See below for our running updates on where things stand for this year's color show!
(Please note: the photo here and at the top of this page are from previous years.)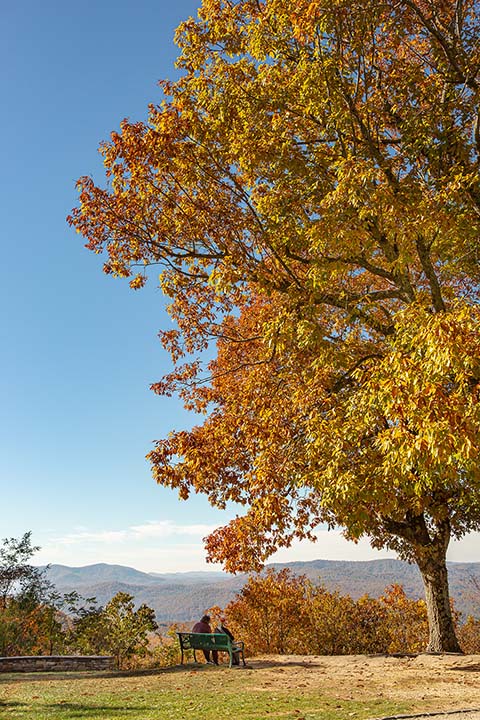 Final Update: November 6th
While there are still some trees holding on to their copper, burgundy and brown leaves, continuing to dot the landscape with one last hurrah of color, the 2023 Fall Foliage Season is truly at its close. It was a beautiful season, and we enjoyed chasing the color for you. Be sure to plan to join us next October to see the beauty the landscape has to offer — each year is its own special surprise! Pictured above is a recent drone shot from Bearwallow Mountain, and here is what we think was one of the best fall foliage photos this season had to offer, shot at High Falls at DuPont State Forest a few weeks ago!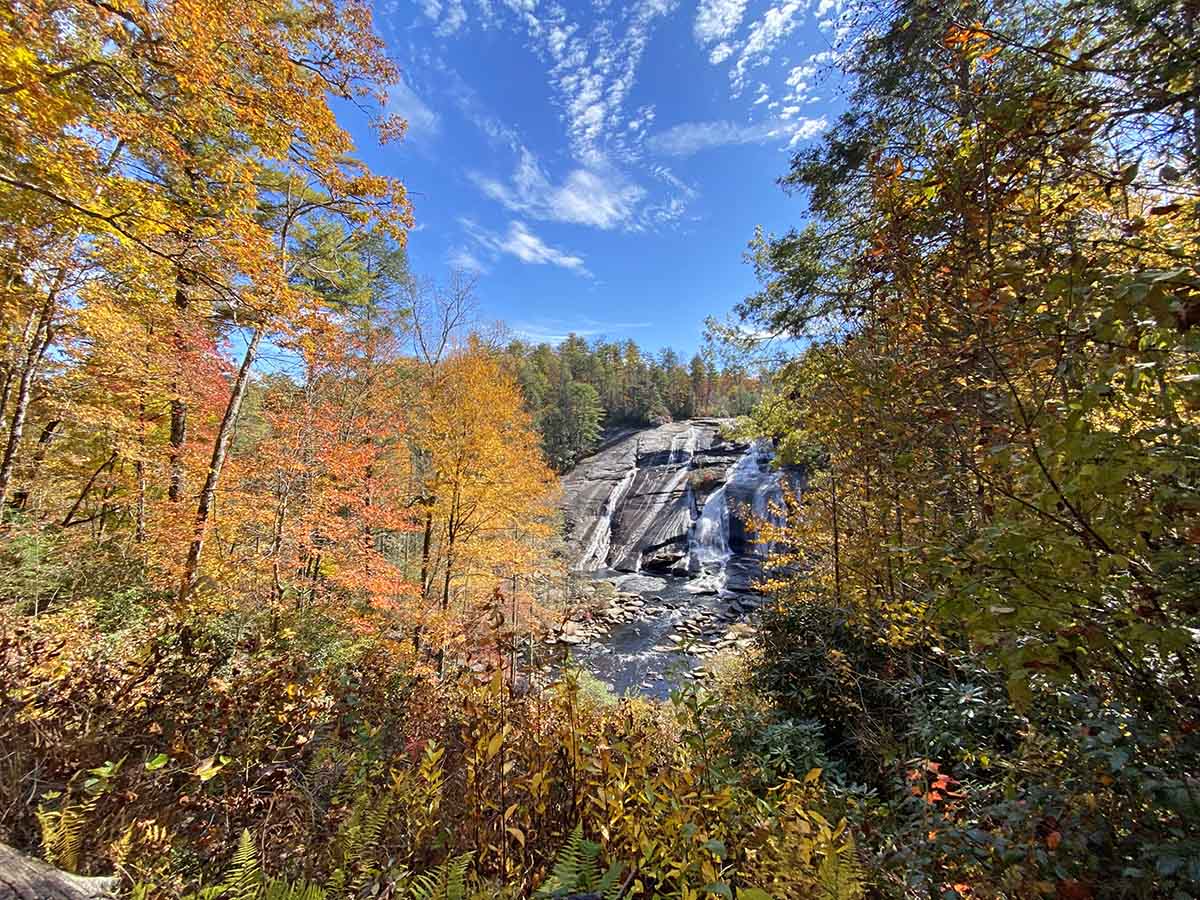 Update: October 30th
The leaves are continuing to fall, but that offers a different kind of magical fall activity: driving through falling leaves — which feels like something out of a movie. Currently, your best options for the most vibrant foliage seem to be the lower elevations around the county, driving through town and getting lucky to see brightly colored trees and bushes in yards of homes, or looking out at the rolling hills from scenic overlooks, like Jump Off Rock, where the mountains are dappled in a variety of colors, and you can't quite tell that the leaves are beginning to come down. From close up, it is more obvious that the 2023 leaf season is approaching its close.
Update: October 26th
While leaves have continued to fall across the county, there is still plenty of vibrant color to see right now. In Etowah, along the French Broad River, there is still some color to enjoy if you take a paddling trip. In Horse Shoe, the drive along Route 64 is lined by rolling hills still covered in bright colors. In Laurel Park, Rhododendron Lake is seeing quite a few leaves on the ground, but the lake and its surrounding paths are still filled with beauty and a wide variety of types of trees and their differing colors. At Mills River Park, which is in a flat valley, you can see the vibrant mountain peaks of Pisgah National Forest in the distance. In Downtown Hendersonville, many of the later-changing trees have finally shown their true colors, while some of the earlier-changing trees have begun dropping leaves.
Update: October 23rd
Driving through the greater Hendersonville area, you are sure to see foliage that will knock your socks off right now. Each day seems more beautiful than the previous, hard as that seems to be. DuPont State Recreational Forest is bursting with color at every level, from the the lowest shrubby plants on up. Not far from there, Kanuga's vast property, which includes a conference center, accommodations, camp, bike park and more, is beginning to showcase a lovely display of colors around its lakefront. From above (via drone), you can see plainly why the foliage in the Blue Ridge Mountains is so popular — the wide variety of types of trees and the differing colors they display each autumn.
Update: October 19th
At Jump Off Rock, the leaves are only just beginning to change, but it is still very much worth the drive up to this scenic overlook for the spectacular views and the vibrant foliage you will see on your drive up the mountain. In Downtown Hendersonville, there are many maple trees showing off nearly full transformations, like pictured here, in front of the courthouse on Grove Street. Up on the Blue Ridge Parkway, the foliage continue to be more and more rich, with some stretches of road being further along than others (as is common in the mountains), and Skinny Dip Falls, which is running low, due to a recent lack of rainfall in our region, is absolutely bursting with color. The famed, roadside Looking Glass Falls, located just down the road from the Parkway in Pisgah National Forest, is also showcasing a stunning display of yellows.
Update: October 16th
About an hour northwest of Hendersonville, Maggie Valley (and areas further west) saw snowfall on the Blue Ridge Parkway . This could signal trees to begin dropping leaves in those areas soon. Meanwhile, the stretch of the Parkway that is closer to Hendersonville, which winds its way along the edge of the county, is still seeing beautiful, vibrant foliage, though it did also get a light dusting. Closer to town, the cool evenings have encouraged the trees on the outskirts of town to eek ever-closer to their peak foliage, and many of the trees in Downtown Hendersonville are already fully changed to their reds, oranges and yellows. Next week looks promising for even more vibrancy downtown, the cooler evenings and little bit of rain we have seen has helped improve this recent color development.
Update: October 14th
Up on the Blue Ridge Parkway, the foliage is at or about to reach peak color saturation! Something that makes living in the Blue Ridge Mountains so interesting is that there are so many micro-climates, meaning that along your drive, you may go around a curve and find a stretch where the foliage is more vibrant than the last! Today, thanks to the rich biodiversity our area supports, reds, yellows, oranges, burgundies, bronzes and greens in all shades can all be spotted.
Update: October 12th
In Flat Rock, just south of downtown Hendersonville, the foliage is starting to become more vibrant. Along roadsides, dogwood trees are already showcasing their deep burgundies and the elm trees are shining their sunniest yellows, while some of the later-turning trees remain mostly green. Much of the historic Flat Rock area is private property or summer camps, like Camp Ton-A-Wandah, but The Flat Rock Playhouse and Carl Sandburg Home are both great public places to see the foliage.
Update: October 10th
To the north of Hendersonville, Fletcher, NC, is not yet seeing as vibrant of foliage as the higher elevations. At Rutledge RV Park, the lake is mostly surrounded by green, while at Bill Moore Park, a few trees are beginning to show off their reds and yellows, while the majority of the trees that surround the park, and the mountains around are only showing early stages of the leaves changing color.
Update: October 6th
Mills River Park is undergoing a gradual transformation as autumn takes hold. While the leaves have started to change, they are still working their way towards their peak of vibrant fall colors. The park's trees are slowly shedding their summer greenery and adopting shades of red, orange, and gold, promising a breathtaking display in the coming weeks. Visitors to Mills River Park can anticipate the evolving beauty of the changing foliage.
In Downtown Hendersonville, some of the maple trees are beginning to show their reds and oranges, but the majority of trees remain green. 
Update: October 5th
Along the Blue Ridge Parkway, colors are beginning to show, and we anticipate peak color will be on display soon. The Parkway is a quintessential part of any visit to the Blue Ridge Mountains, especially in the fall, when "America's Most Popular Roadway" is ablaze with the vibrant colors.
The stretch of roadway closest to Hendersonville features nearly a dozen tunnels, which were expertly crafted by the Civilian Conservation Corps (CCC) in the 1930s, an effort by President FDR to get Americans back to work.