Bullington Gardens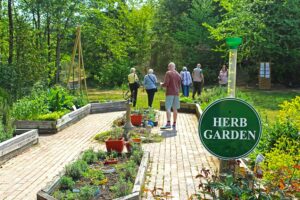 95 Upper Red Oak Trail
Hendersonville, NC 28792
Bullington Gardens is a 12-acre, nonprofit horticultural education center offering programs, activities and workshops. The gardens and grounds include a popular fairy garden, a large dahlia garden, therapy garden, shade garden, butterfly garden, perennial borders, native woodland garden, pumpkin patch and herb garden. The grounds also include a half-mile nature trail through the wooded area of the gardens.
Open Monday – Saturday

The popular Fairy Trail is open June – August (arrive early as this can get busy!)

Best time to see dahlia blooms is late-August into early-October, until the first frost

No admission charged,

donations are appreciated
Special Events
Wee Wine & Dahlias
is available from From August 16 – October 14, 2022, Enjoy an exclusive evening at Bullington Gardens while you sip delicious, locally sourced wine and stroll through the spectacular Dahlias in full bloom. Groups of up to 8 are invited for a twilight party in either the pavilion, tents, or (in case of rain) the horticultural therapy greenhouse. The cost is $300 and will include 2 bottles of wine, 1 bottle of cider and water. Tables will be adorned with fresh floral arrangements that are yours to take home. Bring your own hors d'oeuvres or an entire meal to host an amazing private dinner party with an unrivaled view. $300 per group per evening. Sponsors are welcome! $500 per sponsor will get your name on all of our social media accounts, plus honorable mention on our website and newsletter. Two areas will be available on a first-come/first-serve basis. Enjoy the evening under the shady pavilion or get an up close view of the dahlias under a tent. Learn more and reserve your spot on
Bullington Gardens' website
.