"Look Homeward, Angel" Statue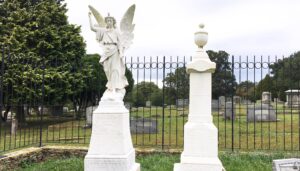 Highway 64 West
Hendersonville, NC
Author Thomas Wolfe's first novel was "Look Homeward, Angel," a novel set in a fictional version of Asheville, NC (called Altamont in the novel). In his history-making first novel,

Wolfe frequently references an angel statue carved from Italian marble.

The statue found in Oakdale Cemetery is the exact angel Wolfe referenced.

Thomas Wolfe's father, W.O. Wolfe, sold the statue to the Johnson family to mark their family plot.

O

akdale Cemetery is located on Highway 64 West, just a short distance from downtown.

A wrought iron fence protects the statue and there is a historical marker located on the side of the road.