Cider, Wine & Dine Weekend
Celebrate Hendersonville's Wine & Cider Scene
April 21-23, 2023
Tantalize your taste buds in the vineyards and orchards of the Blue Ridge Mountains during this weekend celebration of Hendersonville's wine and cider scene.
The 2023 edition of Cider, Wine & Dine Weekend takes place April 21-23, when several local wineries and cideries partner for a signature weekend of cider, wine and food. Artisan hard cider and award-winning wines are showcased with a full schedule of tastings, tours, new releases, picnics, pairing dinners, live music, orchard hikes, vineyard yoga and more.
More than a dozen venues participate in this weekend that coincides with apple blossom season in Henderson County, the top apple-producing county in the state and regularly among the top 20 nationwide.

It is also a time when the first buds begin to emerge on the vines in NC's newest wine country, the Crest of the Blue Ridge American Viticulture Area (AVA). Our wineries produce classic wines from European vinifera grapes and French-American hybrids, as well as sweeter wines crafted from native grapes.

Scroll down for participating venues; check back for 2023 schedule of events
Crest of the Blue Ridge AVA
Apple Blossom Driving Tour
2023 Participating Locations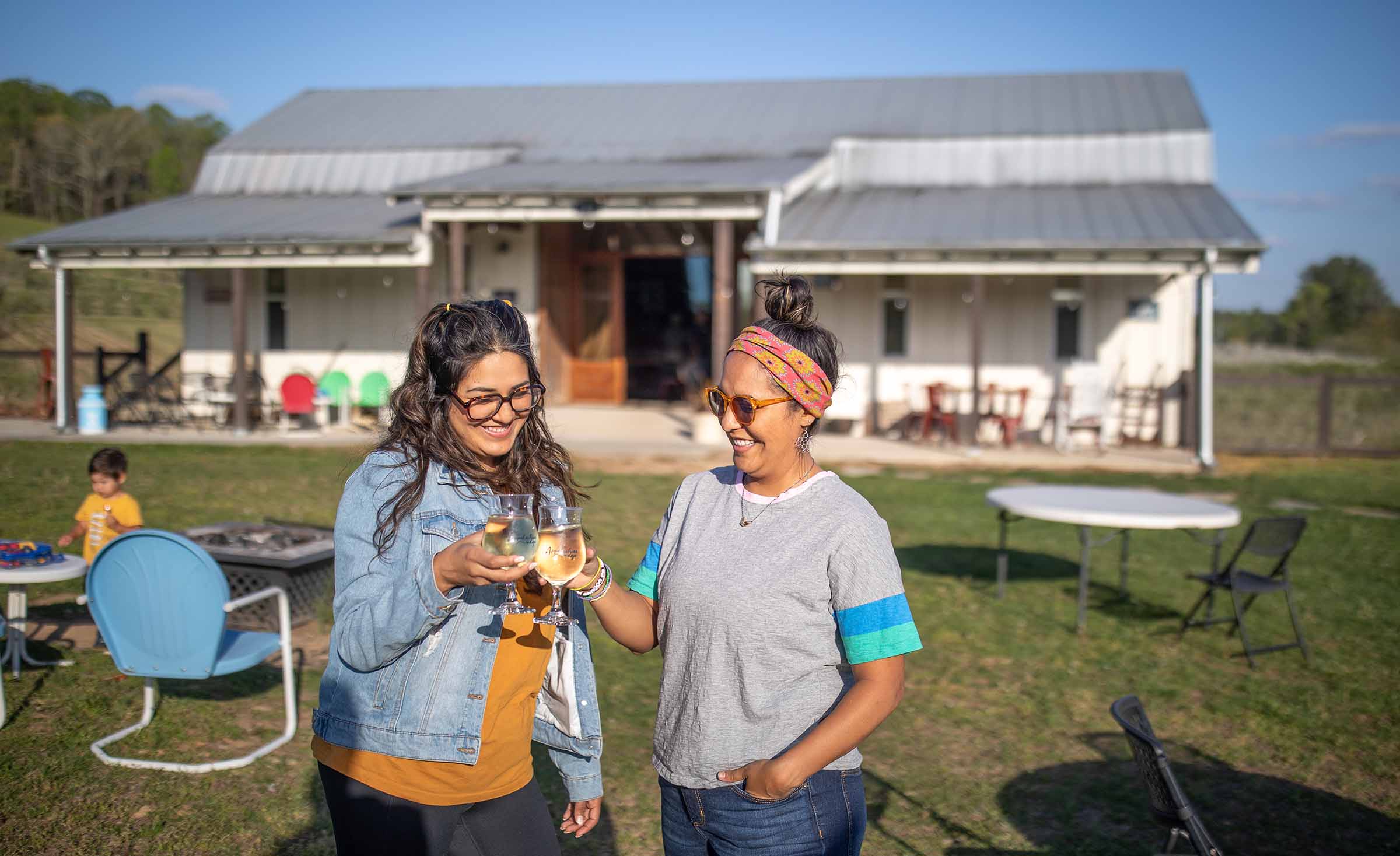 Appalachian Ridge Artisan Ciders
Enjoy European style ciders in a renovated 1940s barn in the midst of an orchard. The cider is made from traditional Henderson County apples, as well as from apple trees that have been transplanted from the Normandy region of France. Appalachian Ridge also makes pommeau, a blend of cider and apple brandy. 731 Chestnut Gap Road, Hendersonville, NC 28792, 828-699-7507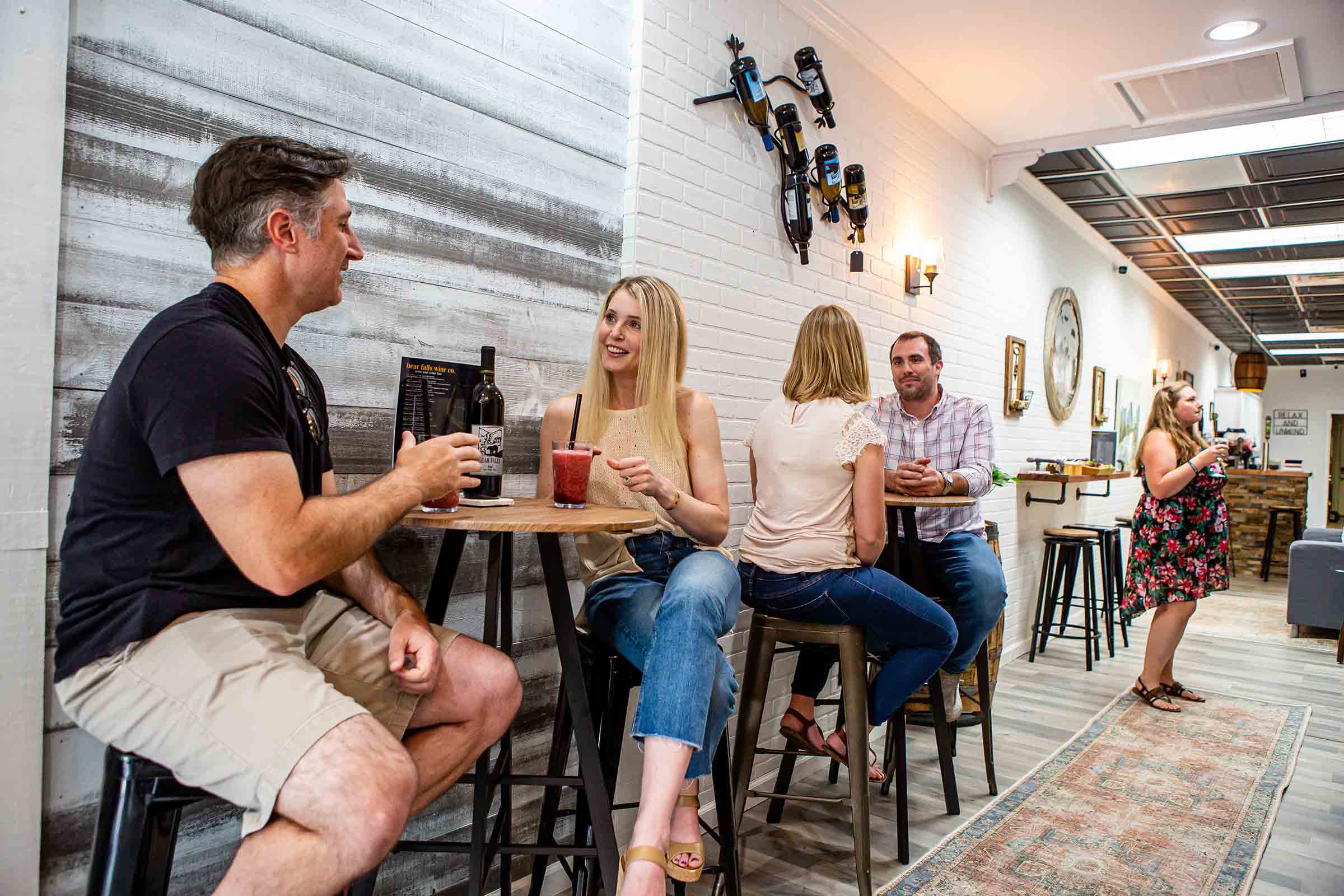 Bear Falls Wine Company
Bear Falls Wine Company's Downtown Hendersonville Tasting Room offers a relaxed yet upscale environment to enjoy a glass of their wine. They produce a wide variety of wines that are grown in North Carolina's Yadkin Valley and produced in Saluda, NC, as well as offer wine slushies, hard cider and beer. The tasting room is open Wednesdays – Sundays. 432 N Main Street, Hendersonville, NC 28792, 828-393-0945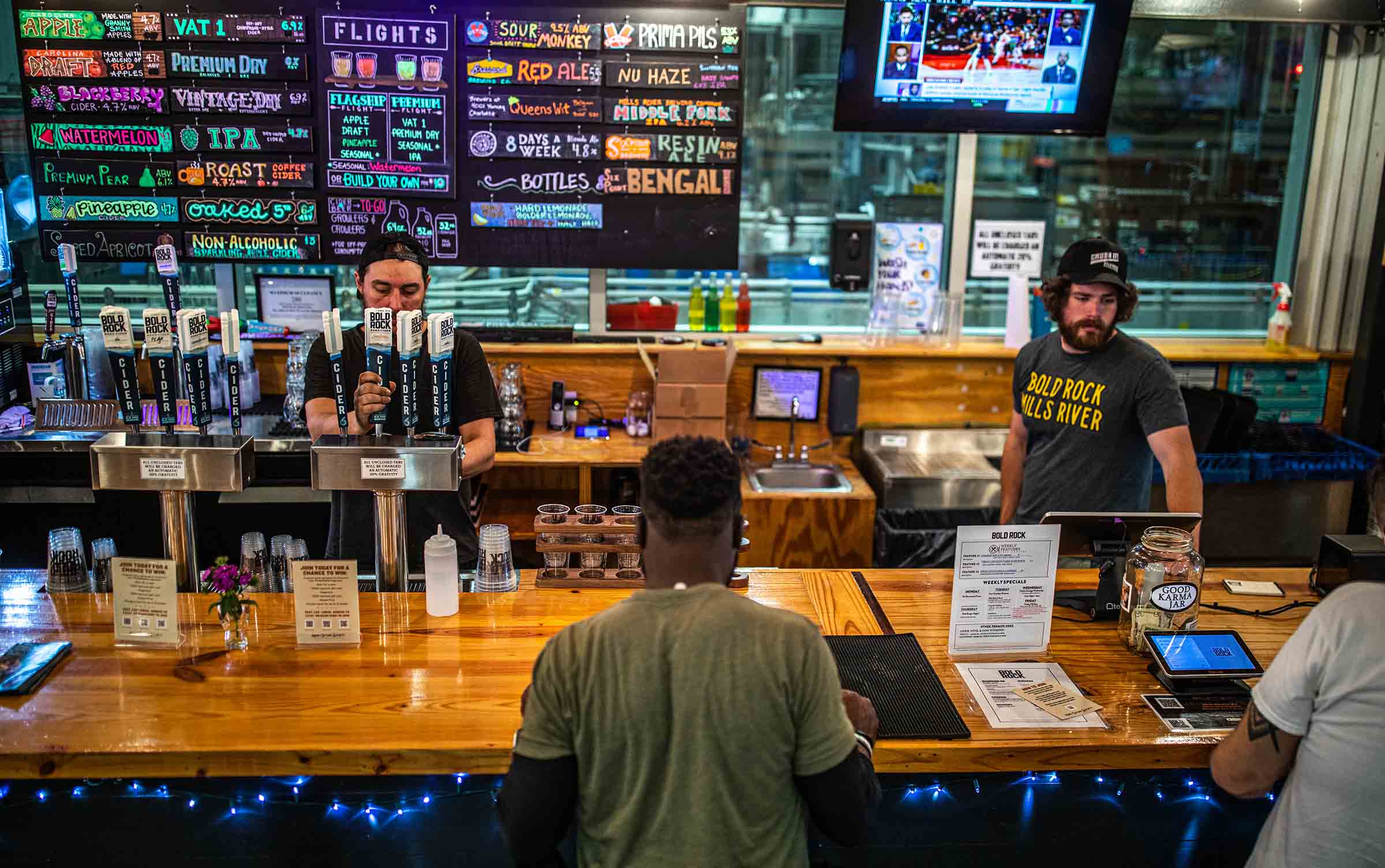 Bold Rock Hard Cider
The nation's largest craft cidery produces a regular line of hard ciders, as well as several seasonal offerings. The state-of-the-art tasting room includes windows overlooking the production facility, a permanent food truck, cider garden and indoor and outdoor stages for regular live music. Complimentary tours are offered on Saturday and Sunday afternoons, call for dates & times. The brewery is family & pet friendly. 72 School House Road, Mills River, NC 28759, 828-595-9940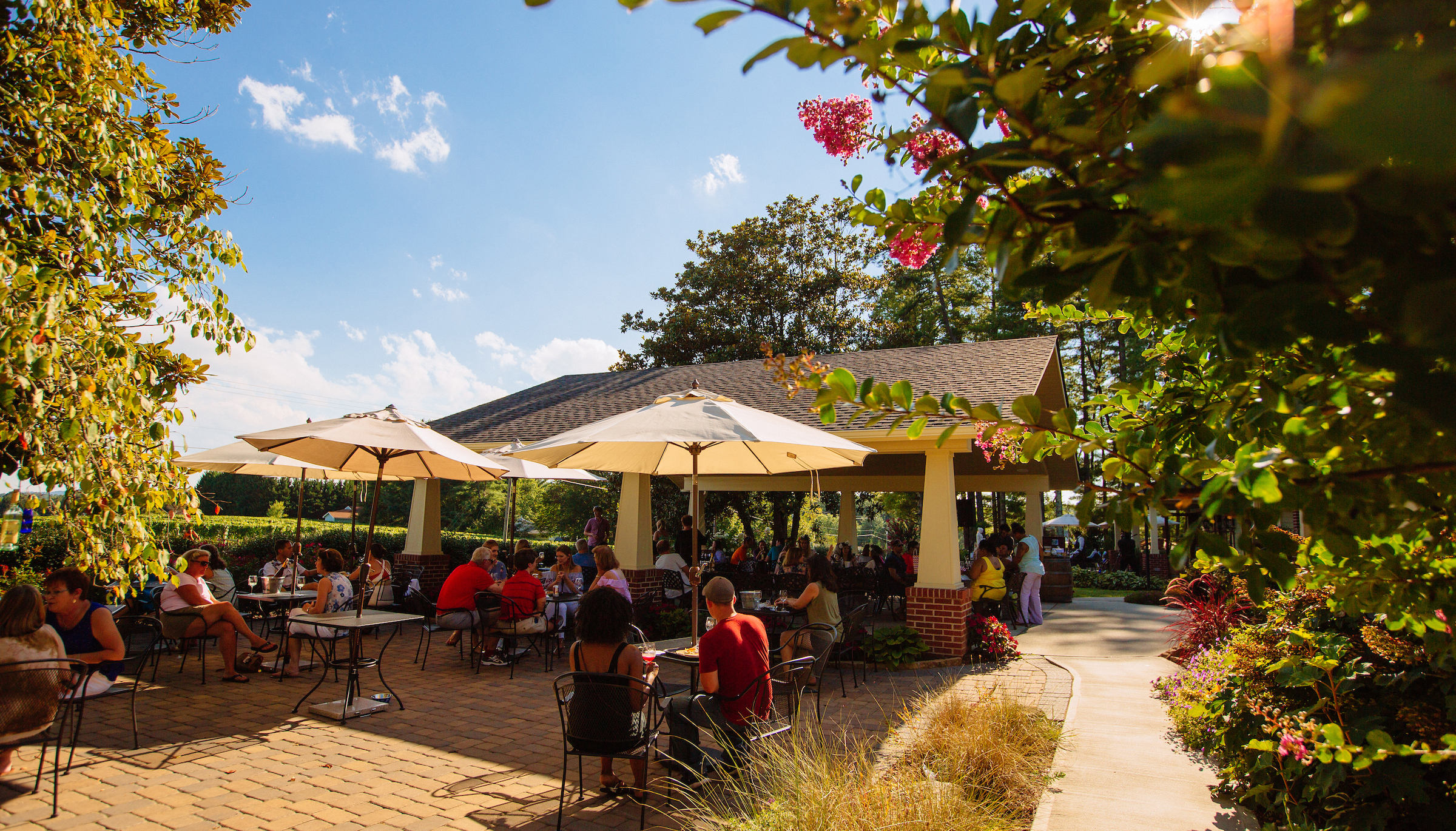 Burntshirt Vineyards
Produces a large selection of wines that have captured many national and international awards. Wines are made from 100% estate grown grapes at two Burntshirt vineyards, which are among the highest elevation vineyards on the East Coast. The tasting room is popular with indoor and outdoor seating, live music. Be sure to try the apple wine. 2695 Sugarloaf Road, Hendersonville, NC 28792, 828-685-2402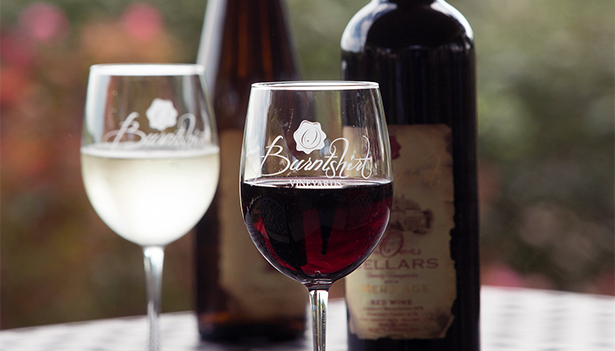 Burntshirt Vineyards: Chimney Rock Tasting Room & Bistro
Burntshirt Vineyards operates a second location in nearby Chimney Rock. The patio overlooks the iconic Chimney Rock landmark and Hickory Nut Falls. Taste a selection of 20 estate-grown wines, and choose a favorite to pair with lunch or dinner. The bistro serves an upscale yet approachable menu with Southern classics, seafood dishes and shareable small plates. 438 Main Street, Chimney Rock, NC 28720, 828-436-2490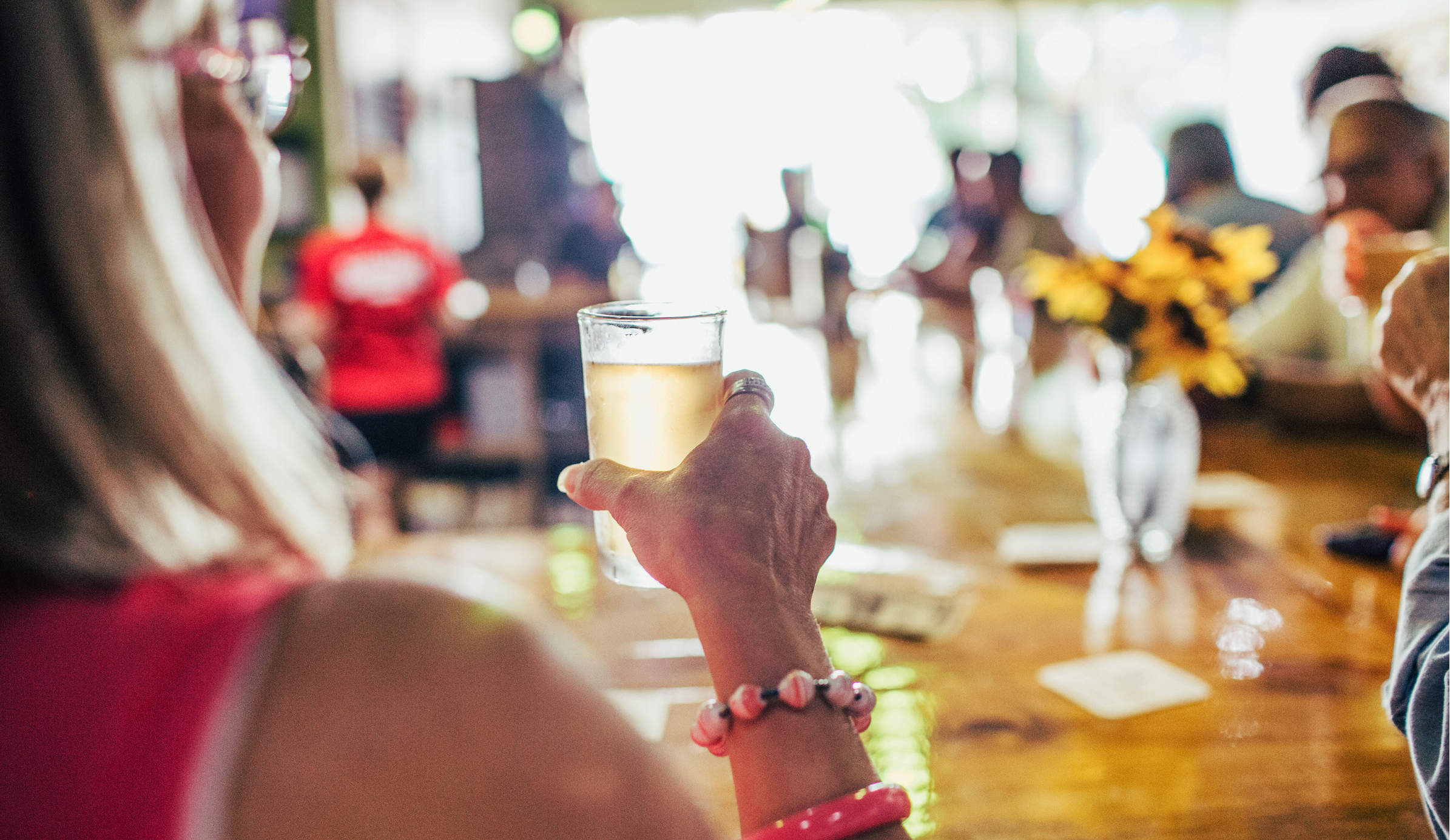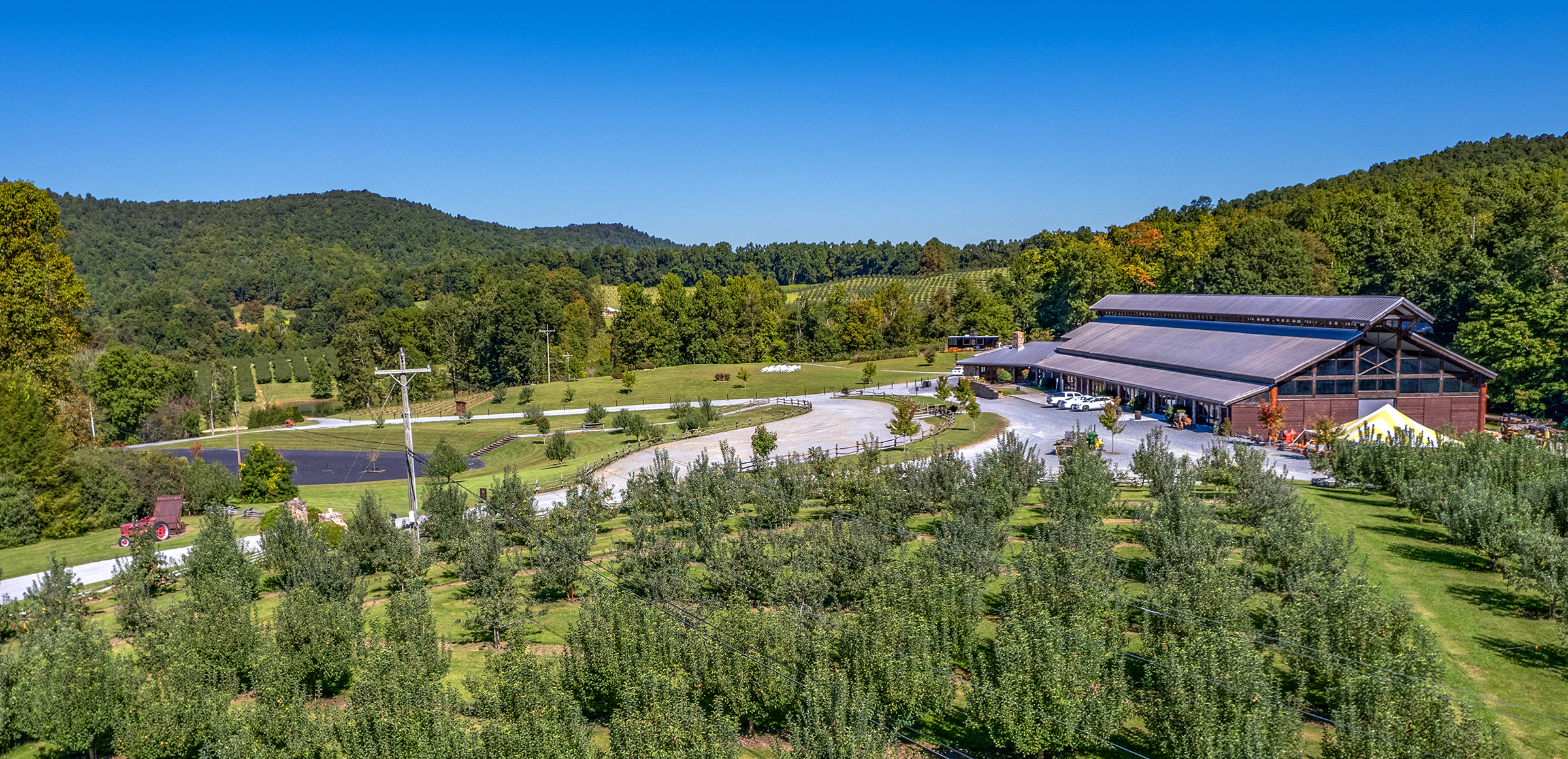 Jeter Mountain Farms
The Farm offers six hard ciders on tap that are produced on site, including 3 all-apple ciders and two that are blends of apple and other fruits grown on the farm. Enjoy a hard cider tasting or take home a 4-pack to enjoy at home. Open Seasonally, July-October, Check their web site for hours. 1126 Jeter Mountain Road, Hendersonville, NC 28739 828-513-0404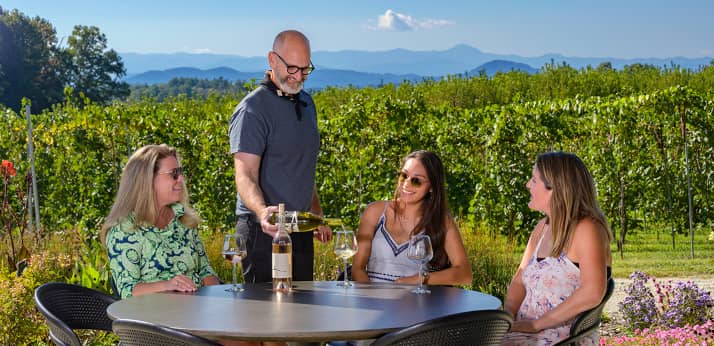 Marked Tree Vineyard
Marked Tree Vineyard, located at an elevation of 2,300 feet on the Eastern Continental Divide, is Flat Rock's first winery. It offers 10 wine varieties made with European vinifera and French-American hybrid grapes in a picturesque setting, surrounded by panoramic views. Grapes include Cabernet Franc, Petit Verdot, Grüner Veltliner, Chardonel and Vidal Blanc. Guests may choose between the indoor tasting room and an outdoor patio.  Vineyard tours are available on Saturdays. Check the web site for hours. 623 Deep Gap Road, Flat Rock, NC 28731, 828-513-3773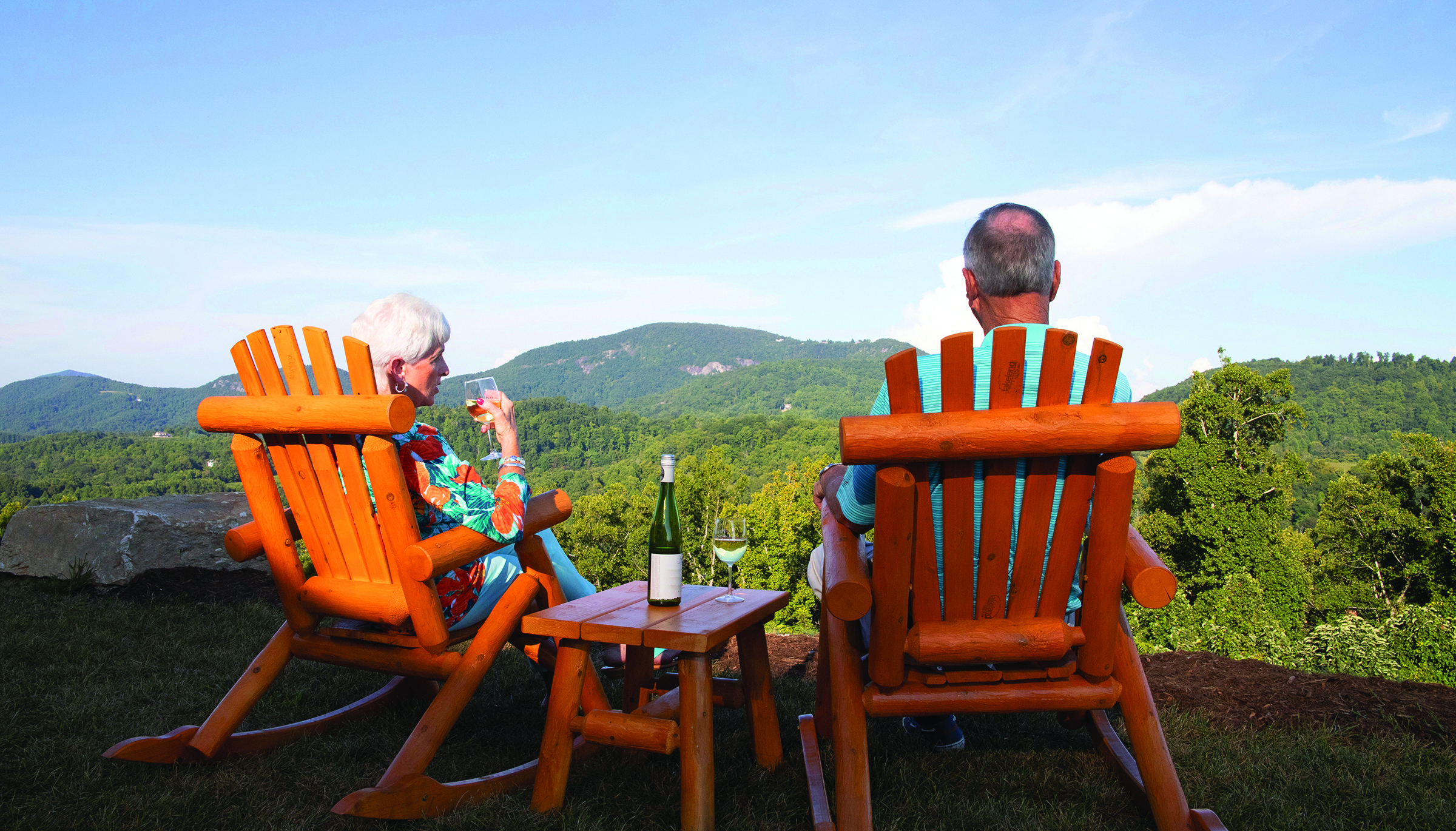 Point Lookout Vineyards
A wonderful pairing of traditional wines with 30-mile vistas from an expansive open-air tasting room at 3,000 feet in elevation atop Point Lookout Mountain. Point Lookout offers 10 dry and semi-sweet wines. It also has a coffee shop on site, as well as an events pavilion with regular live music. 408 Appleola Road, Hendersonville, NC 28792, 828-393-5793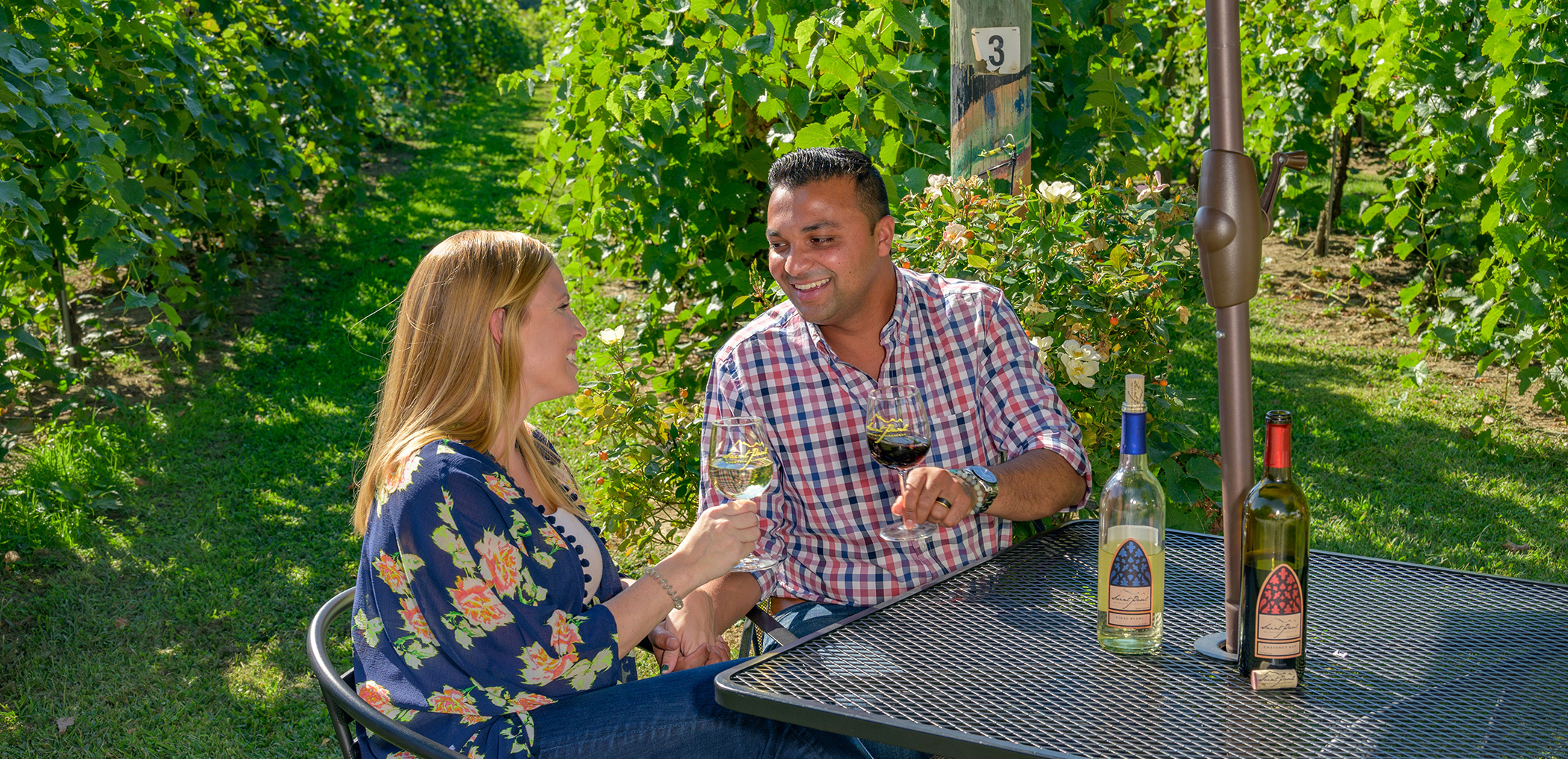 Saint Paul Mountain Vineyards
Saint Paul was the first winery in Hendersonville when it opened in 2011. The vineyards are on land that has been in the same family for nine generations. Wines reflect that rich sense of place. Guided tastings showcase wines made from 14 varieties of French vinifera grapes. Live music is often available on the outdoor patio. Check the web site for hours. 588 Chestnut Gap Road, Hendersonville, NC 28792, 828-685-4002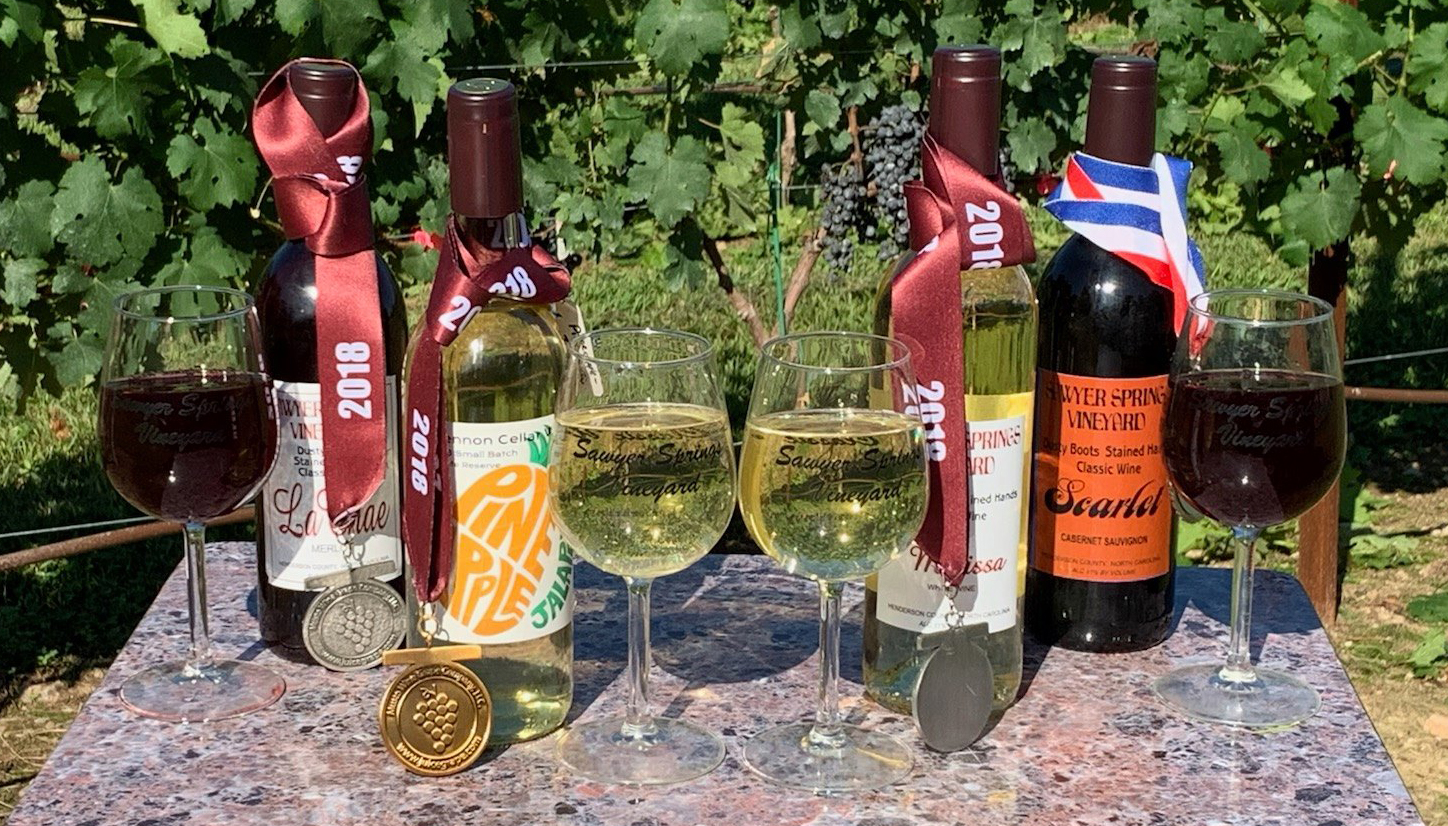 Sawyer Springs Vineyard
Small and purposeful is the mission of Sawyer Springs. This winery is a family-run operation on land that has been farmed by the same family for six generations. Sawyer Springs produces vintages in small batches served in a rustic tasting barn. Grape varietals include: Cabernet Sauvignon, Zinfandel, Merlot, Riesling and Muscadine. There is also a selection of fruit wines made from blueberries and strawberries. Check the web site for hours.  124 Sandy Hill Lane, Hendersonville, NC 28792.  828-698-4383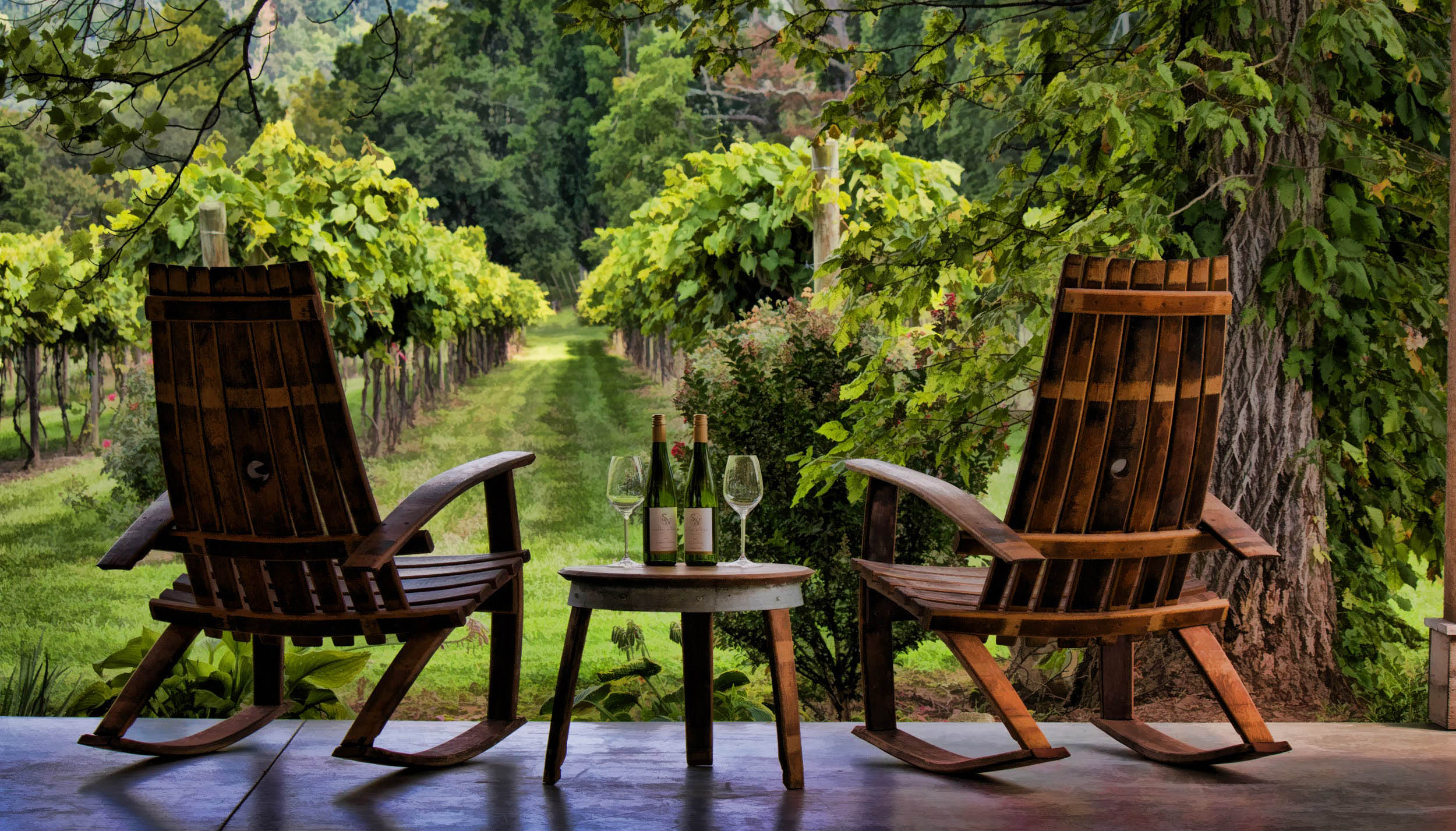 Souther Williams Vineyard 
Souther Williams is the latest addition to Hendersonville's Crest of the Blue Ridge wine country. The vineyard features eight acres of grapes (with additional acres planned) and an open-air tasting room. On land that's been in the same family since 1800, Souther Williams cultivates well-known varietals like Cabernet Franc, Cynthiana, Reisling and Vidal Blanc, along with lesser-known grapes from Austria, Germany and eastern Europe. These cooler climate varietals include Blaufrankisch, Gruner Veltliner, Regent and Saperavi. Souther Williams Vineyard is only open to people age 21+. 655 Hoopers Creek Road, Fletcher, NC 28732, 828-483-6070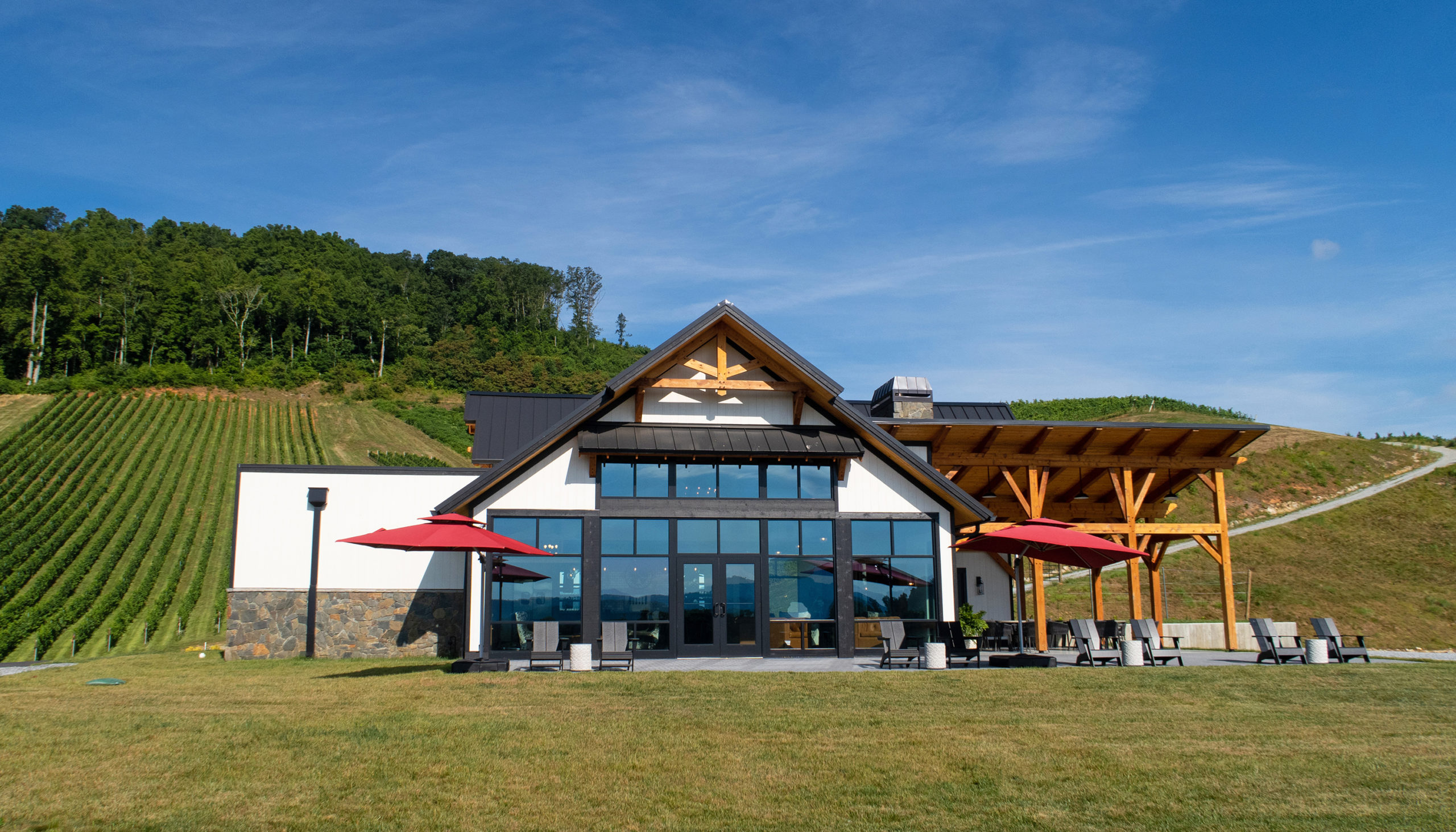 Stone Ashe Vineyards
Stone Ashe Vineyard is a state-of-the-art 2,000-square-foot tasting room rests on a bluff overlooking a pond surrounded by vineyards. Stone Ashe's goal is to use the terroir of Henderson County's Crest of the Blue Ridge American Viticultural Area to produce wines for the world stage using classic grape varietals such as Merlot. Stone Ashe Vineyard is only open to people age 21+. Check the web site for hours. 736 Green Mountain Road, Hendersonville, NC 28792, 828-551-5643​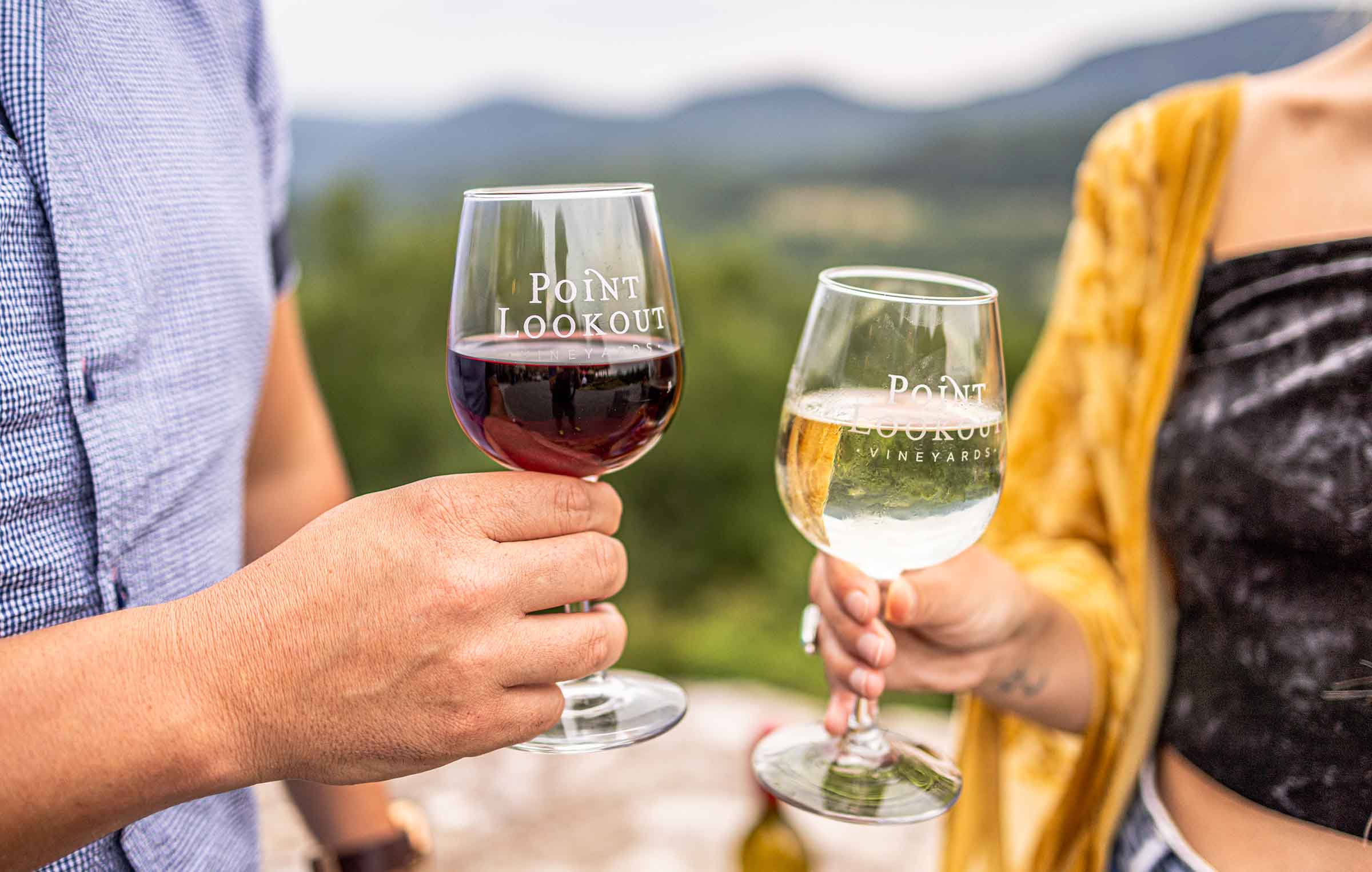 World's Edge Meadery
Located at Point Lookout Vineyards, World's Edge produces seven meads: wildflower and orange blossom, apple, raspberry, tropical fruit, chamomile and chai tea. For the uninitiated, mead is type of wine made from honey. It was popular in American during colonial times and offers a nice alternative to Point Lookout's wine collection. Check the web site for hours. 408 Appleola Road, Hendersonville, NC 28792, 828-393-5793
See a complete list of Cider, Wine & Dine events
There are no upcoming events at this time.